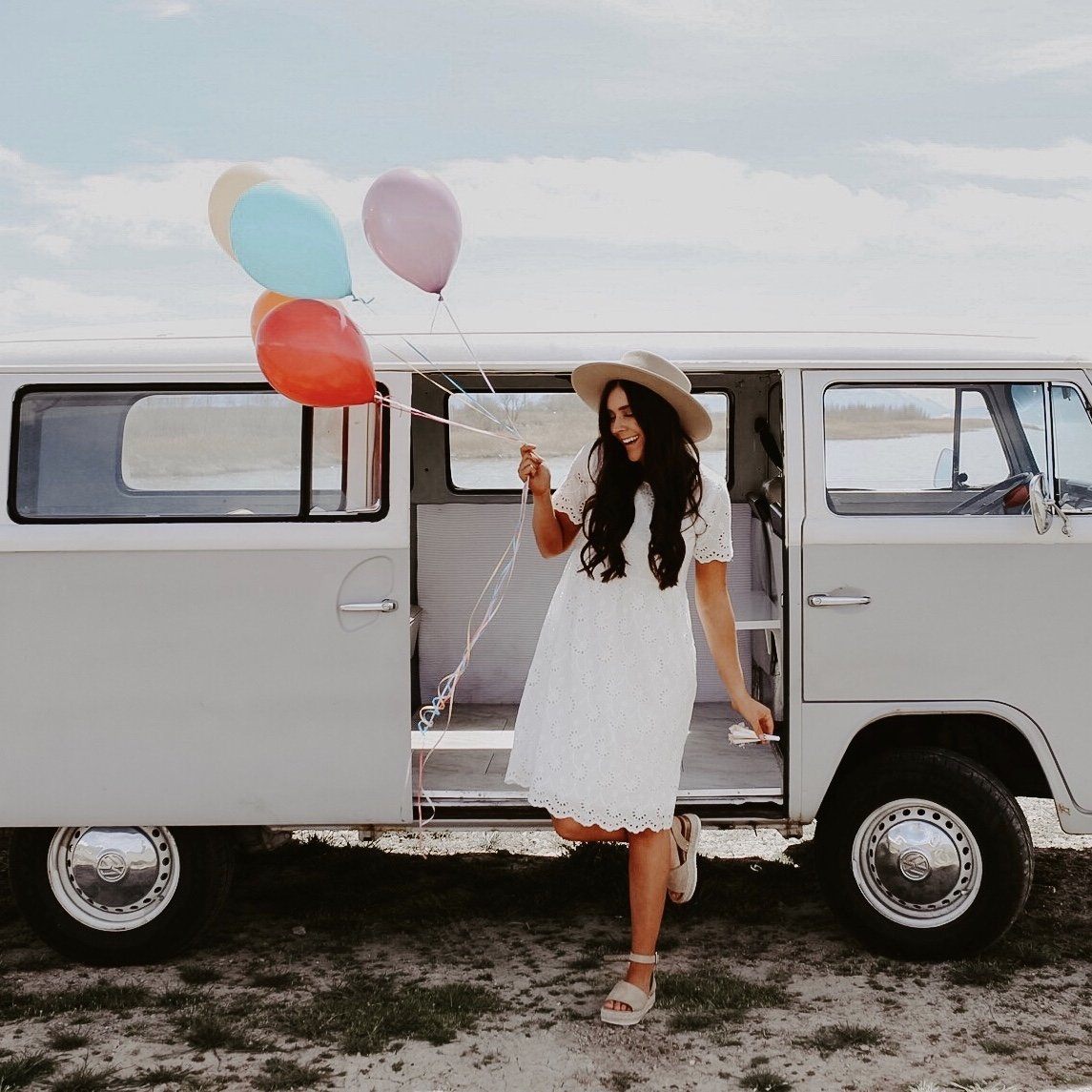 Birthday Q + A: Get to Know Melanie!
It's Melanie's birthday today + we sat down with the birthday girl to ask her some tough questions - so get comfy, grab your favorite treat, & let's get to know the babe behind One Loved Babe!
If you could live anywhere in the world, where would it be?
I really want to go on a month vacation touring around Europe. It sounds so fun to take a train from country to country exploring. I mainly want to see Paris, London, Rome, Greece + Germany. 
What is your favorite thing about owning a business?
One of my favorite things about owning a business is seeing my visions come to life. I love the creative side of it, being able to create really whatever I want. I'm also pretty obsessed that I get to shop for a living!
What is your guilty pleasure snack?
Ice cream, cookies, cupcakes, candy... I have a strong sweet tooth hahah!
Is there anything you wish would come back into fashion?
Honestly, there isn't anything that I can think of. I feel like no matter what the trend is at the time, I fall in love with it, and by the time it's out of fashion, I'm ready for it to be gone haha. With how much shopping that I do, I love to see things come and go. I love change.
What are you most proud of in the last year?
My biggest accomplishment from last year is growing One Loved Babe big enough so that my husband could quit his career and join the One Loved Babe team! I don't think I've ever had something more rewarding. We now run the show together and it's been a dream!
What's your favorite Disneyland ride?
Guardians of the galaxy baby!
What's one of your favorite items in the shop right now? Why?
Ahhhh it's hard for me to pick just one.... but I'd have to say our Cabana Sandals (technically out of stock, but they're coming back!) I literally pair these with a lot of my outfits, it's such a summer staple sandal! The color literally goes with everything (hence why they're paired with so many of our outfits!) If you pair it with the You and Me brim hat, it's heaven!
What's something you want us to know about One Loved Babe?
People ask all the time how we came up with the name. We had just had our first son, Duke, and I was a stay at home mom. I wanted something to do on the side, so I started selling baby moccasins that I bought wholesale. When trying to come up with a name, Chad suggested One Loved Babe since Duke was "One Loved Babe". After a few months of selling moccasins, I realized it wasn't my passion. I had been buying a lot of clothes at the time and I wasn't obsessed with any of them. I decided to venture into women's clothing and since we already had One Loved Babe registered with the state and had our business license, I decided to keep the name to make it easier. I actually love the name because it's unique. 
What's your favorite vacation spot?
Hawaii! I've only been to Oahu, but I'd love to travel to all of the islands!
What are you most looking forward to this year?
There's a lot of things I'm really excited for this year, but I can't spill the beans quite yet! Stay tuned ;)
What are your favorite things to do with your family?
We love to be outside. Whether it's going on hikes, swimming at the pool, camping, playing at the park, etc. I feel like that's when we're the happiest. 
What's one of your biggest goals?
One of my biggest goals is to open a retail location! 
What is your favorite item in your closet?
My hats. Outfits come and go, but hats are a staple in my closet. 
What are 3 words that describe you?
spontaneous, outgoing and self-motivated
When did you first come to realize your passion for fashion?
I would say Jr. High. I would spend over an hour changing my outfits before school until I found the perfect one, I literally did this everyday. I loved looking at my closet and putting outfits together. I'm still pretty obsessed with styling outfits! 
What do you want your new 27 year old self to accomplish this year?
I have some big goals this year, but one of the main ones is moving into a warehouse!
What was your first job? 
 My fi
rst job was at Icing's at University Mall. I pierced ears and helped manage the store. This was a great background for starting One Loved Babe. I was able to see behind the scenes of running a store. 
What is your most used emoji?
heart eyes!
What's one of your hidden talents?
I once scored 40 points in a high school basketball game. I like to consider myself good at sports haha, I'm a pretty competitive person. I played soccer, basketball and volleyball growing up.
What's the best piece of advice you've ever gotten?
The best piece of advice I received is when we lived with my in-laws back in 2016. I had just started One Loved Babe and was doing everything by myself (customer service, fulfilling orders, buying, social media, etc). It started to become a lot for me to manage all of it by myself. My father-in-law told me that when I start to become stressed out of work, and it doesn't become "fun" anymore, that's whenI need to hire an employee. Shortly after, I hired my first employee and I believe it helped me grow. I was able to pawn off 
responsibilities
, and focus on growing the company. Still to this day, I still use that advice, and now have 5 employees!
Where is your happy place?
DISNEYLAND
What's your current favorite TV show?
Arrested Development, the Office, and Parenthood. I'm also a sucker for Keeping up with the Kardashians and girls nights watching the Bachelor!
What's the most important parenting lesson you've learned?
just go with the flow. Days often don't go as planned, kids have a mind of their own haha, and that's ok!
If you could change one thing about your business, what would it be?
Honestly, nothing!! Every experience I've been through with One Loved Babe has been a learning experience for me, and it's helped shape it and make it is today. I've never owned a business before, so it's been a great learning curve for Chad and I. 
Now raise your hand if Melanie is your new favorite person?! Yeah... We thought she might be! Everything that One Loved Babe has become started with her, and we're so grateful for all the hard work she puts in as well as her personality + flare that she brings to the table!
& since birthdays are all about surprises, don't forget that as part of today's birthday fun, she's including a free gift with all orders placed today - so let's get shopping!