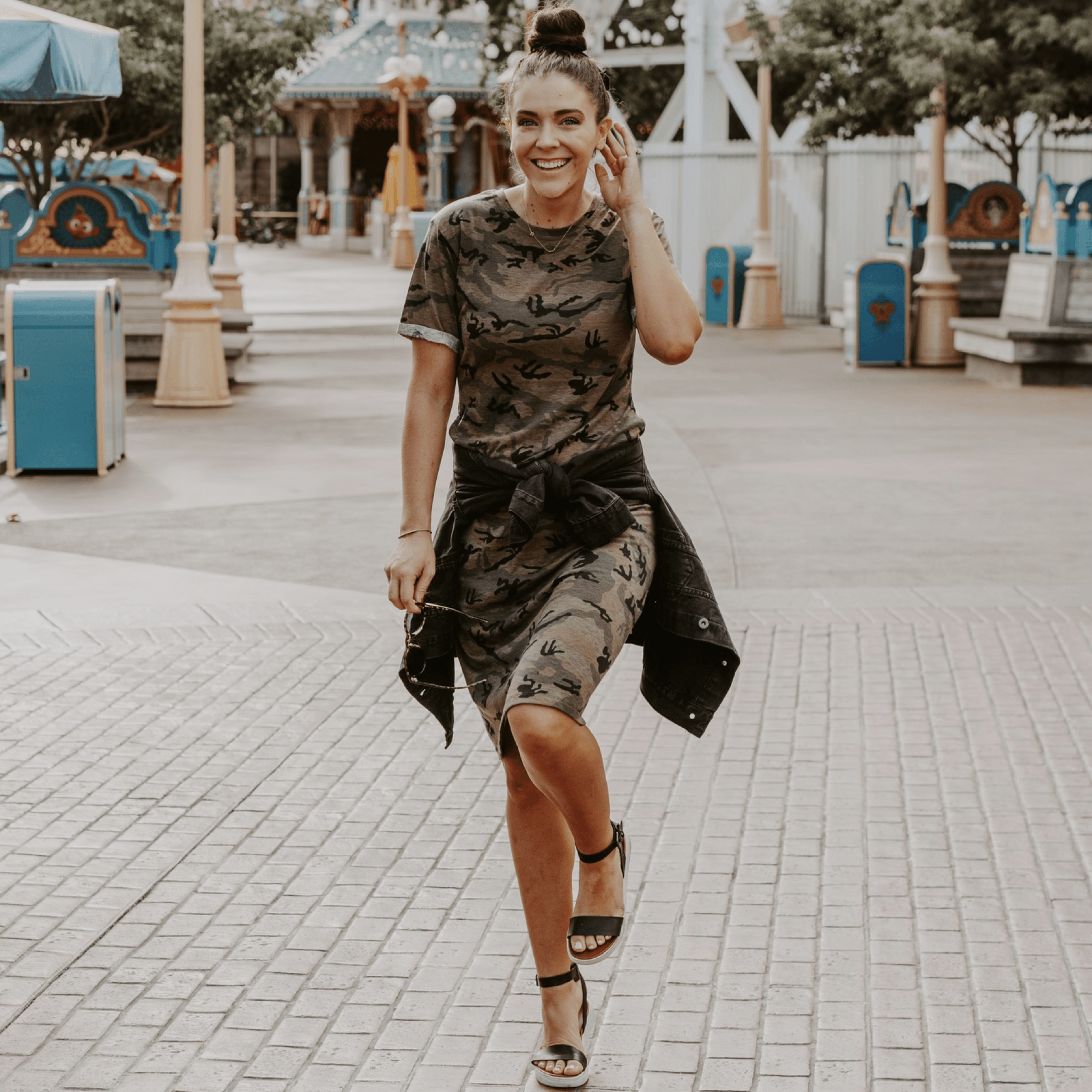 Melanie's Outfit Guide to Disneyland
When planning a trip to Disneyland, my outfits are one of my top priorities when packing. Comfort plays a major role when deciding what items to bring, especially a trip to Disneyland, because there's nothing worse than wishing you brought different shoes. 
Since we go to Disneyland quite often, I have it narrowed down to what I like my outfits to consist of. I put together a collection of my outfits from our most recent trip, which includes some of my all-time favorite items for Disneyland!
1. When it comes to flying, I like to pick something that's comfortable and a little more warm, since I ALWAYS freeze on the plane. Shoes and socks are always a must for me since there's nothing that grosses me out more than having bare feet while going through the security line haha!
 Shop this look: top, shoes, bottoms
One of my favorite items to wear to Disneyland is dresses! They're so comfortable, nice and cool on those hot, sweaty days, and they hide my food baby after eating so many treats ;) Here are some of my favorites that check off all the boxes in my book:
Shop this look: dress, shoes
I like to keep it casual with a simple striped tee and some bermudas. This is currently one of my favorite tops because of the loose/relaxed fit.
Shop this look: top, shorts (similar), sandals
Let's talk shoes. Shoes are the one thing I get asked ALL.THE.TIME about. Shoes can make or break your Disneyland experience. Without the right pair of shoes, it can turn a magical day into a painful day. Trust me, the last thing you want is blisters at Disneyland. If buying a new pair of shoes for Disneyland, I always recommend breaking in your shoes BEFORE leaving. I made the mistake once of wearing a brand new pair of shoes on our first day, and let's just say I won't make that mistake again 😜
Here are the few shoes that I pull EVERY TIME we make our way to the happiest place on earth:
Let's talk treats, because let's be real, we know that's the real reason we go to Disneyland 😝
Pumpkin Pie Shake - secret menu at Flo's V8
I'm a huge lover of Cake Pops, so taking a pit stop on Paradise Pier is always a must!
Blackberry Mint Julep... so, so good!
My all-time favorite treat, S'mores Bar. You can find this at the Winnie the Pooh Gift Shop and the shops on Main Street in Disneyland and DCA
S'mores churro... need I say more? 🤤
Pumpkin Spice Beignet! I think it's pretty hard to pass up the original beignets, but the pumpkin spice came in a close second. 
Oogie's Worms & Dirt Funnel Fries! They were pretty good, but I wouldn't recommend eating with your fingers, unless you want stained bright green fingers for the rest of your trip 😳
It's no secret that I'm a huge lover of Disneyland, and am already trying to convince Chad to renew our passes... but until then, I want to see your guys' fun trips! Take along some @onelovedbabe clothing on your next trip and tag us!