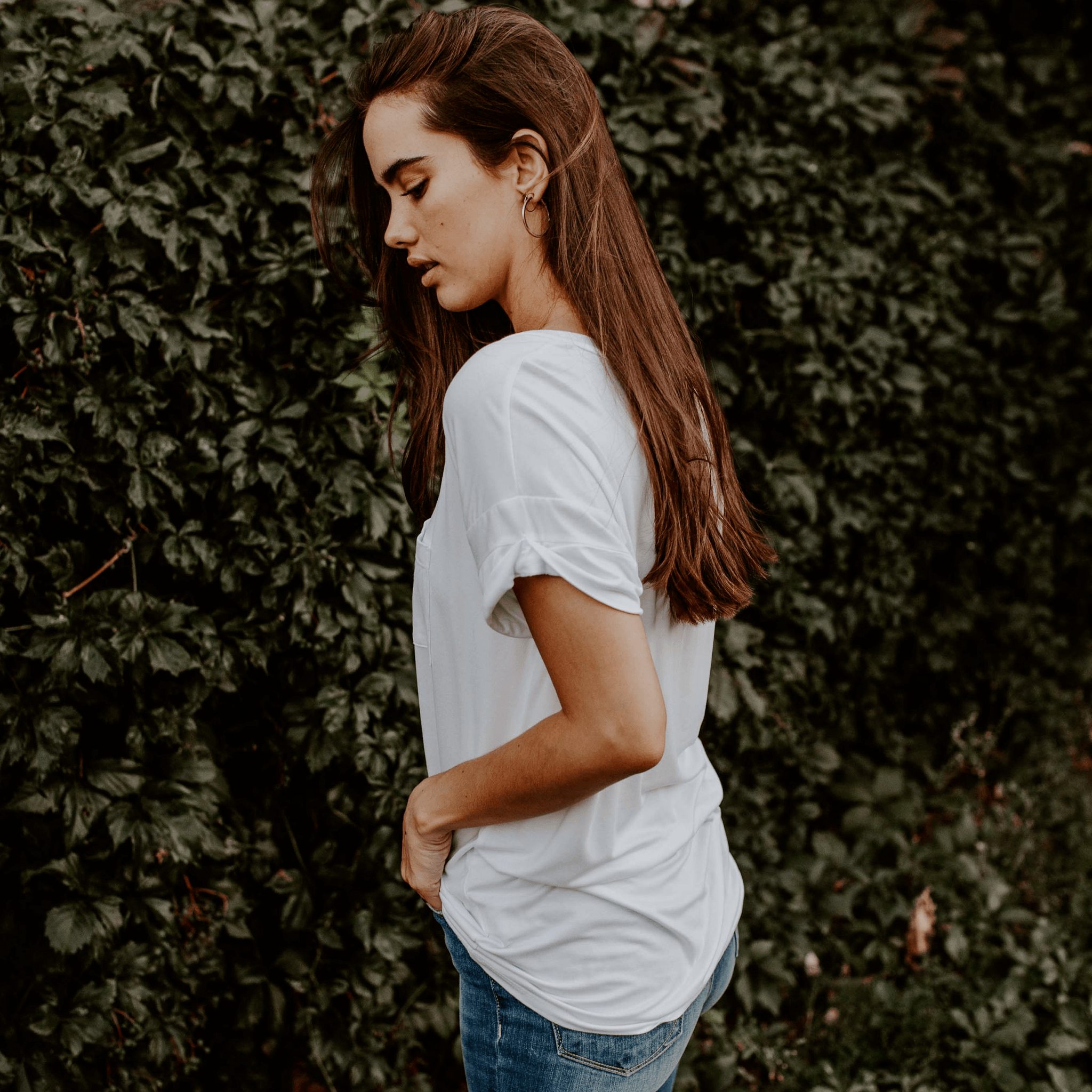 Let's talk basics! Don't let the word fool you, these fashion items are the foundation of an outstanding outfit! There are basics that will bring your outfit together, from start to finish, making it easy + simple to put your outfit together. There are certain items that should always be in your closet + we put a list together just for you.
T-Shirt
Nothing beats a simple t-shirt. A great t-shirt can mean something different to everyone, but it's a must when it comes to having it in your closet. It's simple + fashionable statement for all-day comfort. A t-shirt is the perfect blank canvas to add accessories too! A good tee is so versatile + a piece you can wear any time of the year. Tuck it in or tuck it out, there are endless styling opportunities.
Jeans
Jeans, they never go out of style! There are endless options when it comes to denim, fitted + flared, to skinny, light wash to dark wash, there is a pair for you! While there are so many styles keep one pair that's simple + clean + you have found the perfect pair of basic jeans. But they must be flattering while also comfortable, who is with me?! Personally dark wash, + high rise skinny jeans are my bread + butter, I'm all about them! 
Leggings
Holding it in, in all the right places, am I right?! You must have a pair of black leggings in your closet, they scream basic! We all have those lazy "it's a sweats kinda day", but you still want to feel amazing that you'll strut down the street! Leggings are a great way to be comfortable + still look nice, it's not hard to dress them up with a nice shirt or dress them down with an oversized sweatshirt. If I'm honest, leggings are my favorite basic, I may or may not wear them almost every day!
Booties
Booties are my favorite! Plus they are easier to travel with when it comes to packing them over their big sister, the taller boot! Wear them with your jeans or style them with that cute fall dress of yours, there's no wrong way! I call it a win, win, win! There are so many styles, like the open toe bootie for the warmer months + the closed pointy-toe bootie for the colder months, there's a bootie for every season! The clean black bootie is my personal fall staple, giving me all the fall vibes!
Handbag
Everyone needs a handbag, you have to put your stuff somewhere when your out + about! Keep your handbag simple + clean, that way it can go with any outfit you put on. Put your perfect bag to the test, + see how many ways you can wear it!
Heels
Heels are a women's secret to make any outfit look polished + they will never fail your outfit, am I right?! Keep at least one heel in your closet as basic as can be, you'll still be sure to make a statement. Plus we all need that simple black heel, they make the perfect 9-5, weekend out, + date night with your person. And who doesn't love a good heel?!
Jacket 
Let's talk about the perfect jacket; they make the best outfit when it comes to layering. And if you're anything like me, always cold! You'll be glad you have your basic jacket around. I'm all about layering in the fall like I said it keeps me warm! But layering makes such a statement + screams fall! Find that timeless jacket that meets your style + layer your t-shirt underneath + you have the perfect outfit.
Add these staple basics to your wardrobe + you'll have a well-balanced wardrobe that makes getting ready so much easier! As you add to your closet, don't be afraid to play around with new trends that you fall in love with! These closet basics will play a big role when you add in your new faves!