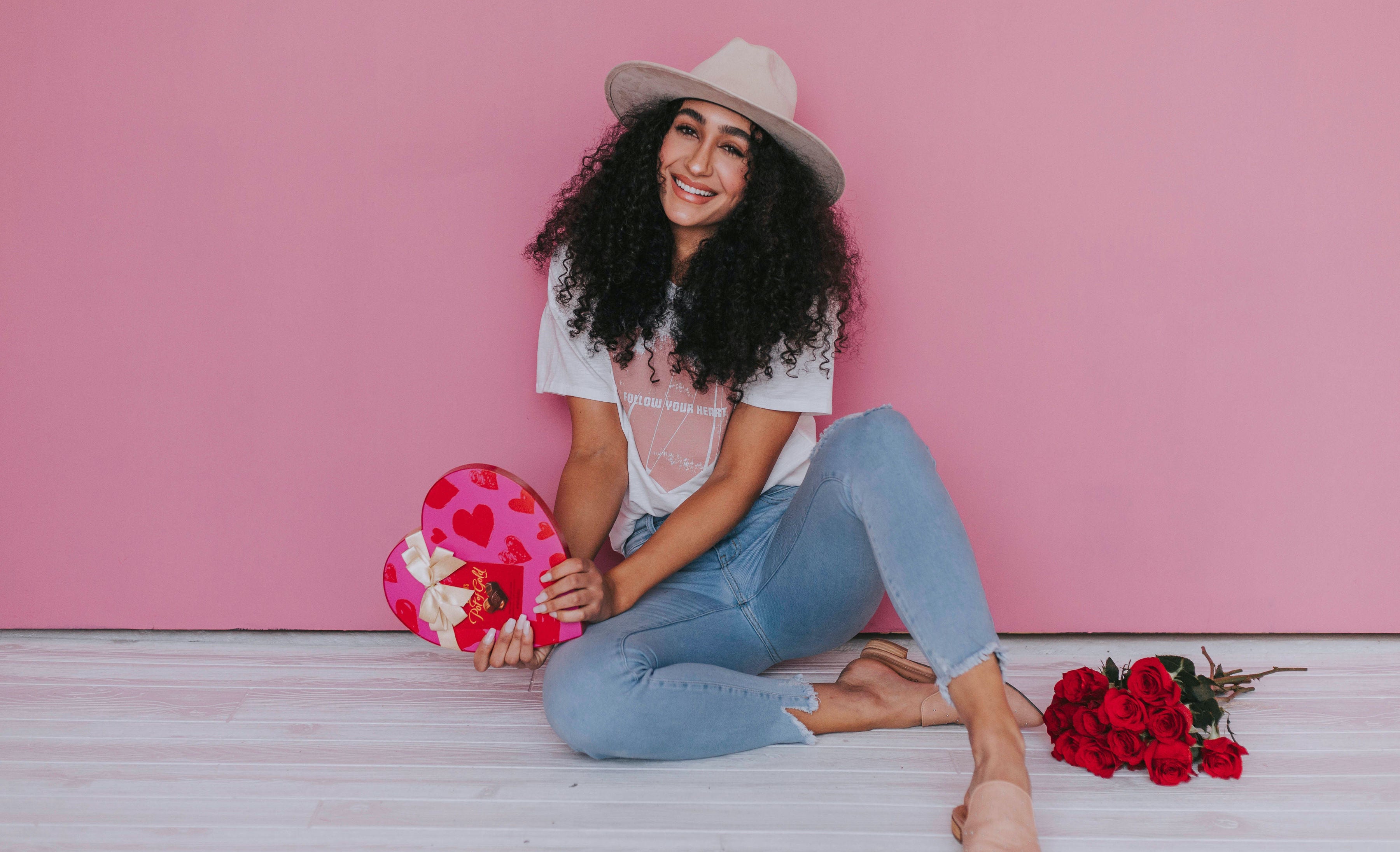 Valentine's Day 2021: Staying In is the New Going Out
We're here to make staying in just as fun as going out! In today's world, it may be hard to have a night out with your SO (or besties), and even if a night out is something you can do, sometimes it's just nice to have a date night in. With Valentine's (or Galentine's) Day coming up, we wanted to come up with a list of dates you can do right in your very own home. PLUS, each of these can be done whether you're looking for a romantic date night or just a fun night with friends.
Make Homemade Pizza
Homemade pizza is one of my favorite go-to dishes when it comes to entertaining friends, family, or anyone else, and it's such a fun thing to do together! If you're not keen on making homemade dough, you can buy premade dough at any grocery store, then take your pick of toppings and get cooking!

Here's a link to the recipe my family often uses: https://www.allrecipes.com/recipe/20171/quick-and-easy-pizza-crust/
Learn to Dance
Okay, think. What dance have you always wanted to learn, but just never took the time to? Maybe it's a waltz, country swing, salsa, or something else...MAYBE, you want to learn a new Tik Tok dance (I'm right there with ya). Hit up YouTube for a tutorial, put on your dancing shoes, and get moving!
Game Night
Game nights are typically best with a group of friends, but two people is plenty! Jenga is a classic, but you can also go with Settlers of Catan, Scattergories, any card games...I'm sure there are plenty more. & PS -- if you have any suggestions, PLEASE drop them in the comments! We're always looking for more games.
Fancy Night In
I have been DYING to do this one. It sounds like so much fun to me! Dress up in your fanciest clothes, do your hair and makeup, and cook (or order in) a fancy meal as if you were dining at a 5-star restaurant. To really top it off, add a few rose petals, light some candles, use fancy dishes and silverware (cue the plastic champagne flutes), and turn on some Italian music in the background (that just seems right).
Karaoke
Whether you're a professional recording artist or legally tone-deaf (is that even a thing?), karaoke can be so much fun if you just accept where you're at and go with it. This can break boundaries between you and your SO and help you get more comfortable with each other. I mean hey, it worked for Gabriella and Troy, right?
Work Out or Practice Yoga
Thankfully, YouTube has a plethora of workout, yoga, and dance videos (along with anything you or anyone else has ever thought of). Maybe you can even try couples yoga or team up for some boxing. No matter the workout, it's sure to be a great stress reliever that will you bring you closer (literally).
Paint
Whether you're artsy and this is something you do often, or not so artsy (yeah, that's me) and just want to get outside of your comfort zone, painting can be so fun! Feel free to get as messy as you want.
Spa Night
Take your choice of charcoal or avocado face mask and you're all set to have a good time, all while mixing in some self-care. I think everyone looks a little silly with a face covered in a mask, so take some pictures and laugh it up! ....then, enjoying basking in the glow of your new refined complexion.😜
Truth or Dare
Truth or dare can be a flirty, fun way to spice things up with your SO (or your best gal pals). One variation I like is to write down truths AND dares on slips of paper and put them all in one bowl to draw from. This way, no one can get out of spilling their secrets or doing something a little crazy.
Laser Tag
Okay, hear me out, because this one can in fact be done at home, or without going to an establishment. Walgreens (and probably Walmart, Target, Amazon, etc.) sells at-home laser tag guns. I have a set of two, so I know a one on one game is possible, and SO MUCH FUN (laser tag is in my top 5 favorite activities ever). I'd recommend putting on some dark clothes and heading to a park in the evening or at night -- choose one that has some obstacles and things to hide behind.
Learn a New Recipe
Alright, what food are you craving RIGHT NOW? Google a recipe for it and cook it together. Maybe you'll prepare something for your fancy night in, or maybe you're going to make pizza or your favorite dessert. Or maybe, you just want to learn how to put together the perfect charcuterie board. Divvy up responsibilities or make everything about teamwork, it's all up to you!
Stargaze
Stargazing is definitely one of my top ten favorite dates. There's just something so romantic about being snuggled up under a blanket looking up at thousands of stars. Whether you have a backyard to go out in or you need to drive out to a park or field, just add a warm blanket and some hot cocoa and your night will be perfect.
Movie Night
And finally, let's finish things off with a classic. Movie night is the perfect activity for any date, whether your relationship is still new or you've been married for years. Add some popcorn to a rom-com, an action flick, a horror movie, or a classic, and you're sure to have a nice night in.
Pssst...check out our Valentine's Day collection here.
Double pssst...thanks to our team for supplying some of these cute pics.❤️