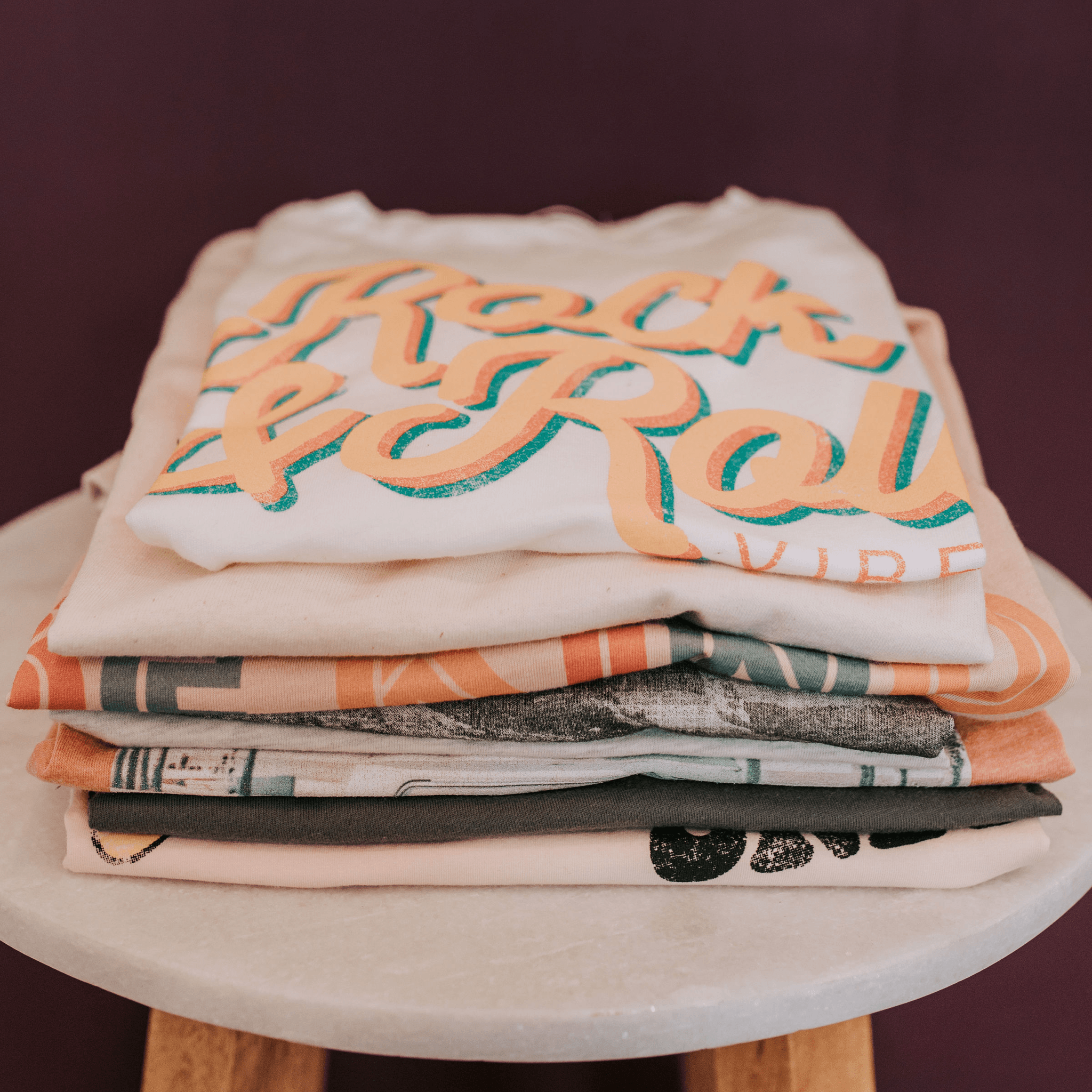 Five Ways To Style Graphic Tees ⚡️
I am OBSESSED with a good Graphic Tee, anyone else? Plus, they are the perfect staple to have in your closet! The best part is, they are versatile! Dressing your graphic tee up or down, there are SOOO many ways to wear it! So let's get to it, different ways to style your graphic tee.
GRAPHIC TEE + BIKER SHORTS
 One of my ALL TIME favorite ways to wear a graphic tee, biker shorts!!! Are you on the biker short trend yet?! You need to be! B
iker shorts + graphic tees will be your new go-to in the warmer months! They are an obvious pair for a playful graphic tee. Plus t
his classic sporty look will have people staring all day long!
KNOT IT
Adding a knot to your graphic tee that sits in the front or the side of your torso will give a whole new depth to your outfit! Talk about the sassy yet sweetness that is far more appealing than just letting your shirt hang. I am LOVING this look, are you?! It's amazing at how much adding a simple knot changes the look + feel of your outfit!
GRAPHIC TEE + A SKIRT
Although it may feel counterintuitive to pair a tee with a skirt, that is what makes this outfit bold, interesting, + fun! You can dress up any shirt, even a graphic tee by pairing it with the perfect skirt! And don't forget to add your favorite piece of jewelry to this beautiful outfit of choice!
TUCK IT IN
Try this simple, yet classic graphic tee look! Tuck your tee into whatever bottoms you are wearing. By tucking in your graphic tee it instantly moves to a new level of sophistication that you can never go wrong with! Whether it's your jeans or a skirt, you will transform your outfit to a whole new level! The full tuck or half tuck, you cannot go wrong either way!
KEEP IT SIMPLE WITH JEANS
Keep it simple + classic at the same time! Wear your graphic tee with a pair of your favorite jeans! Talk about an easy + put-together look! You could even spice things up + wear it with some crazy fun pants! Stripes, florals, polka dots, the list is endless!
I am a lover of ALLL things graphic tees, they are easy + simple + the best part SOOO comfy! How do you like to style your graphic tee?