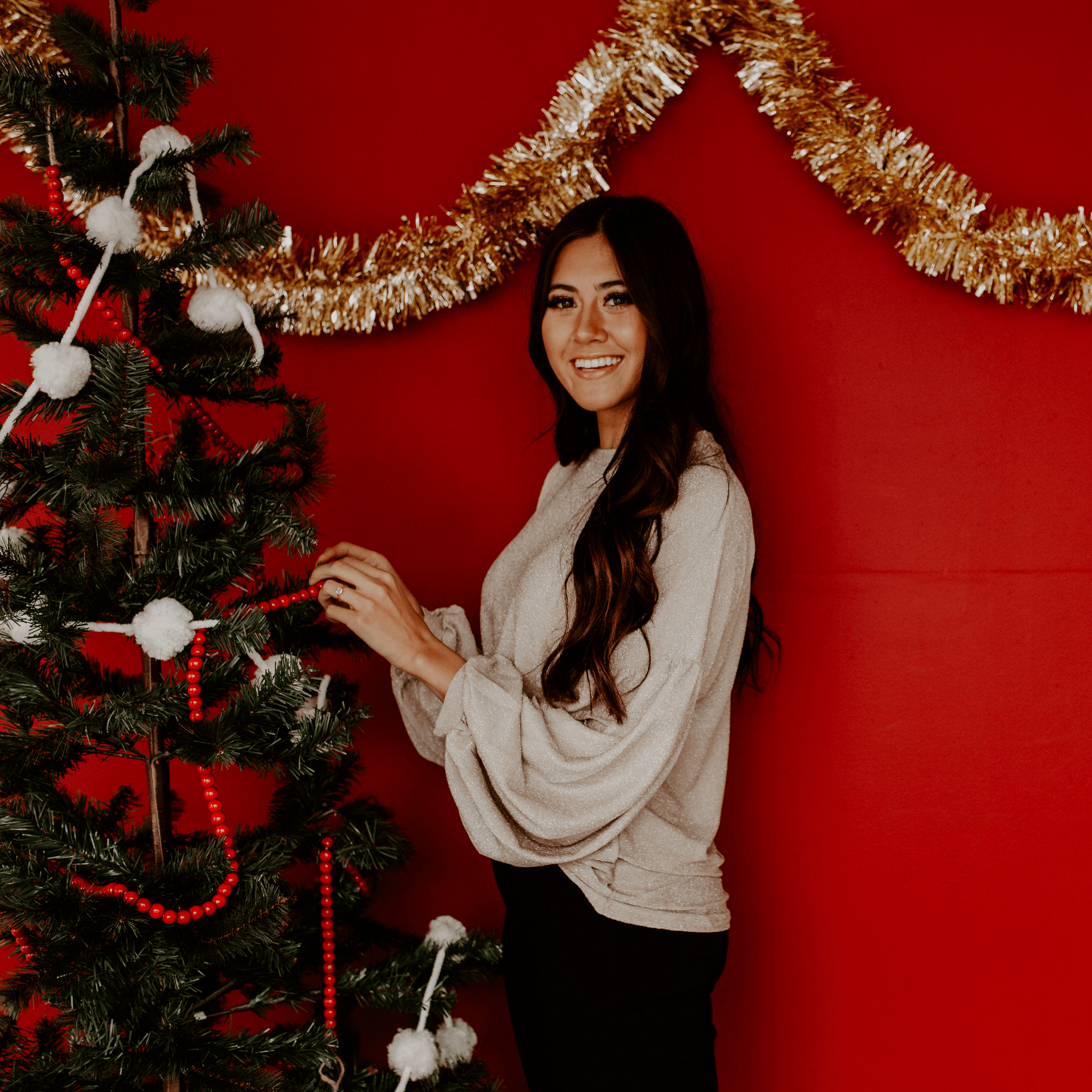 Christmas is my favorite time of year! The joy + happiness all around, magic in the air, + the Christmas spirit. There's nothing quite like it! Let's not forget all the AMAZING Christmas activities that come with it! We put together the perfect Christmas bucket list to make sure you check off all of your Christmas activities.
1. CUT DOWN A CHRISTMAS TREE
What's better than a REAL Christmas tree?! I'm all about the smell of a real tree, who's with me?! Find your nearest tree farm, find the perfect tree, cut it down, + take it home!
2. DECORATE A CHRISTMAS TREE
Decorating the Christmas tree is definitely on the top of my list! There's nothing quite like having Christmas music playing, the fire going, + putting up all the pretty ornaments.
3. WATCH A CHRISTMAS MOVIE BY THE FIRE
Slip into your comfy PJ's, get the fire started, + turn on your favorite Christmas movie! There are so many good ones; I might just have to have a Christmas movie marathon! 
4. BUILD A SNOWMAN
Escape into a winter wonderland! Get outside in the snow + build your favorite old fashioned Frosty The Snowman! Don't forget the carrot for the nose, sticks for the arms, + the perfect snowman hat!
5. MAIL A LETTER TO SANTA
Get some fancy paper and a sparkly pen + write down your Christmas wish list. It's not hard to remember Santa's address: Santa at the North Pole.
6. GET YOUR PICTURE WITH SANTA
I don't care how old you are! Getting pictures with Santa is a Christmas MUST, who's with me?! Let's be honest, we are all children at heart!
7. MAKE A HOMEMADE GIFT
Christmas is about giving! And what's better than making your gift from the heart! There's something so special about a homemade gift.
8. MAKE AN ORNAMENT 
Get your creative pants on, it's time to make your own ornaments! Maybe you're not so crafty...look up ideas! There are so many, I'm sure you'll find one!
9. MAKE A CHRISTMAS PLAYLIST
I seriously LOVE Christmas music. It makes me so happy! Do you agree? Put together the perfect playlist + you'll be in the Christmas spirit all season long!
10. GO SEE THE NUTCRACKER
Ok, I might be a little biased... I grew up dancing. But then again, it is a classic + your escape into a dreamland! If you're not into ballets, they did come out with a movie!
11. BUILD A GINGERBREAD HOUSE
This is one of my ALL TIME favorite Christmas activities! There's nothing quite like a house that's filled with candy + smells like gingerbread.
12. CHRISTMAS CAROLING
Caroling screams Christmas + nothing spreads Christmas cheer quite like it! Get a group of friends together, practice your favorite songs, + head out into the neighborhood!
Now that your Christmas bucket list is ready, go out + start checking it off!